SEIGAKUIN JUNIOR & SENIOR HIGH SCHOOL
Comprehensive Education Combining
Junior and Senior High School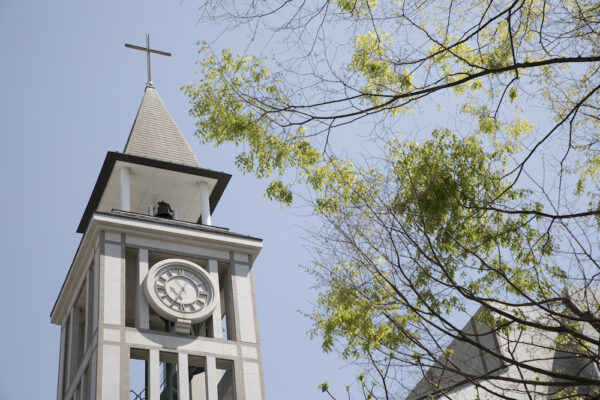 Students are encouraged to think deeply about their lives, reflecting upon themselves during junior and senior high school, the most sensitive period of their lives. Since its founding, Seigakuin has always dealt with the education of the whole person in the spirit of Christianity. Our school nurtures students to be broad-minded, "unfettered and cheerful" with unique personalities, rich in feeling and able to see things from an international perspective. This spirit is characteristic of our school. Our boys discover the way to an abundant life through the six-year educational program combining junior and senior high school.
Message from the Principal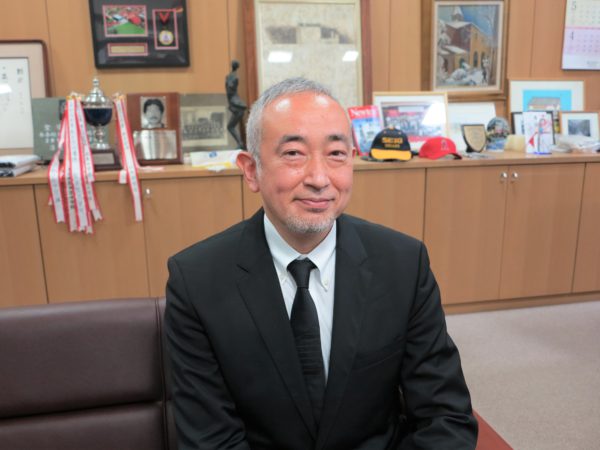 I am Daisuke Ito and I have taken the position of the 13th principal of Seigakuin from April 2021. After graduating from Seigakuin High School in March 1981, this is my first time to return in 40 years. For 40 years, I have served as a minister in several churches. I have also worked in schools. Looking back on those 40 years, I feel like I was always in the same place, only one. I think I was always looking for it.
When I graduated, the 8th principal, Hidehiko Hayashida, repeatedly said, "It's only one, not number one." As a high school student, I thought I knew the difference between the words. However, unlike the words "number one," I don't think that "only one" can be understood easily. Furthermore, the words "only one" are something that we spend the rest of our lives facing.
What is the difference between "number one" and "only one?" To become number one, you always need "another person." Are you above or below when comparing yourself to others? When everything else is down, number one is ready. Number one would not be possible without others. It means always being aware of others. Always thinking of others. In terms of the movement of the mind, it is a state of caring for others and having our minds taken over by others. It can be said that it is controlled. It also means that if you lose your ability to reason soundly, there is always the potential to cause conflict easily.
"Only one," on the other hand, does not depend on others. It is not controlled. Our heart is not in a hijacked state. But how can I find this only one? Even if there is something that I think "this is me," when I truly think about it, I think that it is "me" because I long for "someone" and value "past success." If so, it is a state in which the mind has been hijacked by "someone" and the "past." It's not "only one" because something other than me is intervening. How can I find only one? I wash away what I have in my heart. Success or failure, loved ones, hated ones set aside and look for an unhijacked heart. Get closer to your true self. Then you will surely see "I am here to do this," "This is what God expects," and "Let's live for these people," for others. This thought creates peace. I haven't found "only one" yet. I haven't found it yet, but I think it's important. I am deeply grateful to be able to walk with you again at Seigakuin, which taught me what is important 40 years ago, and I look forward to working with you.
After graduating from Seigakuin High School in 1981, he then completed the first half of his doctoral program at Tokyo Theological University. He has served in the Nangoku Church (Kochi) and Ginza Church. Currently he is a pastor at Honda Memorial Church and an instructor at Horikawa Aiseien, an orphanage. Also, he is a part-time lecturer at Aoyama Gakuin University, High School, etc. He has been appointed as the 13th principal of Seigakuin High School from April 2021.
English as a Tool to Expand your Future Opportunities
At Seigakuin we not only train the four basic English skills of Listening, Speaking, Reading and Writing, but also give students the abilities they need to take the lead in the global society. With our diverse educational topics, we further nurture the student's compassion accepting others across cultures, religions, and borders. Students minds are opened and enhanced so they can observe the world from a panoramic perspective.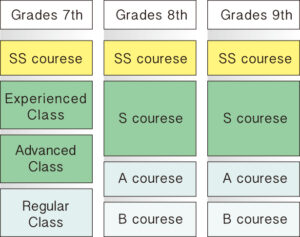 When entering junior high school, some students are learning English for the first time, while others are returnees raised in English-speaking countries. In order to develop classes in which beginners can learn English comfortably and in which students who are accustomed to using English daily can be further challenged, we have implemented classes formed on each student's English proficiency level.
Effective Speaking Skills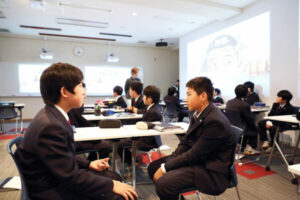 As a first step to learning English, it is essential for students to become interested in English. In the first and second years of junior high school, Seigakuin introduces English through a fun and stimulating speaking-focused class in which we use videos and music to enjoy learning English and eradicate the negative image that learning English is difficult. By putting words, sentences, and grammar to music and in videos spoken by native speaker, students learn English enjoyably and rhythmically, building their confidence to speak in English aloud. At the same time, we examine the students' growth process steadily and in detail, not only through the regular quizzes and exams, but also the student's progress in class.
Strengthening English Abilities Emphasizing Student Output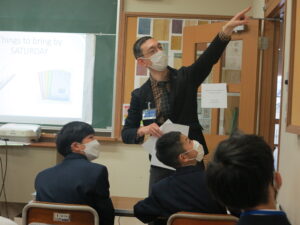 Using world news and documentaries on important social issues as our textbook, our students learn about social issues while putting their English skills to practical use. Students consistently have output opportunities, expressing their opinions and ideas in English. In every course, students spend significant time thinking, discussing and writing in English. One of the characteristics of our English classes is that students receive a well-balanced English education of the four basic skills. (Listening, Speaking, Reading and Writing)
Stimulating Advanced English-Learning Program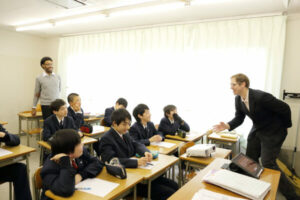 At Seigakuin, we have an advanced level English course, called the "SS Course" which is geared towards returnees six hours a week. In this course, all English classes are taught in English and include student English projects and presentations, extensive reading and essay writing practicing. Using English newspapers, discussions on social issues are held and students are able to learn essential related words and expressions. Learning about important world issues leads to stimulating discussion rich in content and allows students the opportunity to express their ideas freely. Learning about various topics in English is much more fruitful than merely learning English expressions while preparing them for college.
Further Evolution of Seigakuin's Global Education
In 2021, high school entrance examinations will begin for our new Global Innovation Class. Students from Seigakuin Junior High School will also have the chance to advance to the new Global Innovation Class after completing the examination. New incoming students will bring a new breath of fresh air to the classroom of current students, and thus, will create a learning synergy.
Features of Our New Course
The original and innovative curriculum of our Global Innovation Class is aimed at students seeking to further studies in overseas colleges, as well as students considering taking global examinations, AO or general entrance exams in high-ranked public and private universities. The unique curriculum includes 13 to 16 credits per year. There are four areas of study: Global Immersion, STEAM, Liberal Arts, and Projects.
Continually Expanding Seigakuin's Global Study Abroad Programs
Seigakuin holds overseas training programs in the following five countries: Thailand, Australia, the United Kingdom, Cambodia and the United States. The programs last between eight to fifteen days, and each student returns moved by their cultural exchanges and inspired to study more upon their return. In addition to short-term programs, there are also two types of longer study abroad programs: a three-month study and a one-year study program.
Experiential Learning Program in Australia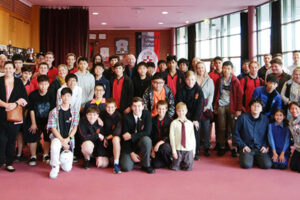 [Target Grades: 9th Grade - 11th Grade / Date: approx. 15 days in August ]
The best feature of this program is that students visit a local school during summer vacation because the seasons in Australia are opposite to those of Japan. Each student is immersed into an English-spoken environment for two weeks with his host-family. Participants study in a special English class with their host brother of the same age. Students can also experience activities, such as horseback riding and life saving techniques. Many students return with the realization of the importance of good communication skills and having a positive attitude not to fear failure.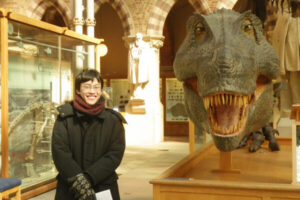 [Target Grades: 8th Grade – 10th Grade / Date: 15 days in March ]
Oxford, with its medieval city streets, has about 40 prestigious universities. Students visit some of those universities to participate in classes taught in English, with other foreign students in the morning. In the afternoon, they visit various attractions and sightseeing spots such as the St. Mary border and London. This program aims to give students a unique cultural experience while learning with other students from around the world.
Holiday Homestay Program in Seattle
[Target Grades: 9th Grade - 11th Grade / Date: 9 days in December ]
This nine-day program introduces students to life in Seattle, Washington, USA. Students interact with college students at the University of Washington. They also visit the headquarters of Starbucks, Amazon and other companies and can experience actual business situations through interacting with business people there.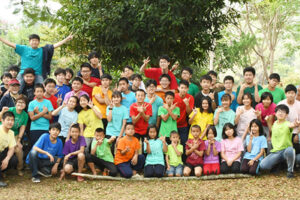 [Target Grades: 9th Grade - 11th Grade / Date: 13 days in December ]
This is an original Seigakuin-designed overseas training program with the main purpose of cultural exchange and volunteer work with the ethnic minority in northern Thailand. Each year, about 30 participants visit the "Maycock Foundation," and spend time with the orphan children or children who are unable to live with their parents. As students feel concern towards the children's situation, their attention is directed to the social background that casts a shadow over the children's future. Through practical training in gathering Thai coffee, students learn that agriculture not only helps ethnic tribes become economically self-reliant, but also protects their indigenous culture and natural environment. The Thai study tour also offers students a chance to meet volunteers who help others selflessly. Since the inception of our program 35 years ago, many graduates have experienced priceless encounters.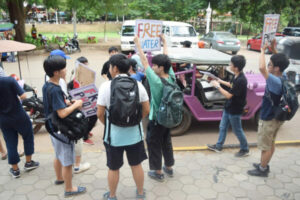 [Target Grades: 10th Grade - 12th Grade / Date: 10 days in August ]
"MoG" stands for "Mission on the Ground. " It is a problem-solving training program where students visit Cambodia to work with local entrepreneurs to try and tackle social issues in business. Through facing real social problems on the global stage and pursuing results of SDGs and social contributions, this program aims to give students the unique opportunity to acquire a formative business life experience abroad.
Long Term Study Abroad Program
Our long term study abroad program is a one year study program in an overseas affiliated school. Students pursuing their advanced education abroad in institutions ranked in the World University Ranking (Times Higher Education) often take part in this program. In Seigakuin's English SS course, students study to achieve a high TOEFL score. Lessons of the upper high school grades focus on TOEFL, SATs, essay writing, PBL and other English related studies. Credits acquired at the foreign language school are credited to the student's graduation of Seigakuin. Furthermore, upon return, students are able to continue studies in the upcoming academic year with their classmates. (If a student studies abroad in his 1st year of high school, the student will study in his 2nd year of high school upon return.)
Seigakuin Junior & Senior High School
3-12-1 Nakazato, Kita-ku, Tokyo 114-8502 JAPAN
Tel: +81-3-3917-1121
e-mail : info@seig-boys.org